A perfect choice of 13 Fabulous Vegan Easter Recipes to enjoy!

Planning a vegan Easter? Here are 13 Fabulous Vegan Easter Recipes to make it simple for you! Start to think about all things springlike, such as asparagus, peas, zucchini, lemons, berries, and pretty little cupcakes. The following is a choice of appetizers, entrees, and desserts, you're totally covered.:)
Let's start with Breakfast!
Here's a lovely choice, all options are healthy and delicious. A refreshing chia berry pudding, scrumptious blueberry and lemon pancakes, or perhaps some wonderfully satisfying breakfast cookies. Whichever you choose it will be a delicious start to the day.
Soups and Salads
Soup is a lovely addition to any Easter feast, plus it can be made in advance which is always helpful. Try the Farro Salad it's deliciously satisfying and has a lovely chewy texture. The Asparagus Spring Salad is wonderfully flavorful and refreshing!

The Main Event!
Here are some lovely choices:) Almost everyone loves risotto and this Spring Pea one won't disappoint. If risotto isn't for you, try the Vegan Cassoulet (super yummy) or the Baked Farro with Tomatoes and Herbs (one of my favorites). All these options can be prepared in advance and all are crowd pleasers.
Baked Farro in Tomatoes and Wine
Sweet Endings:)
Take your pick of some lovely sweet treats. All of them are fabulous but still deliciously healthy as there is no refined sugar involved!
13 Fabulous Vegan Easter Recipes!
How about decorating your Easter table?
It's always fun to create a pretty Easter table. Flowers, a gorgeous tablecloth, napkins, and mini eggs are a great start. If you're really lucky and have your own garden perhaps there will be flowers in bloom. Beautiful candles and some mini eggs complete the look. Enjoy the following link for some Easter inspiration:) Clodagh McKenna has the prettiest ideas!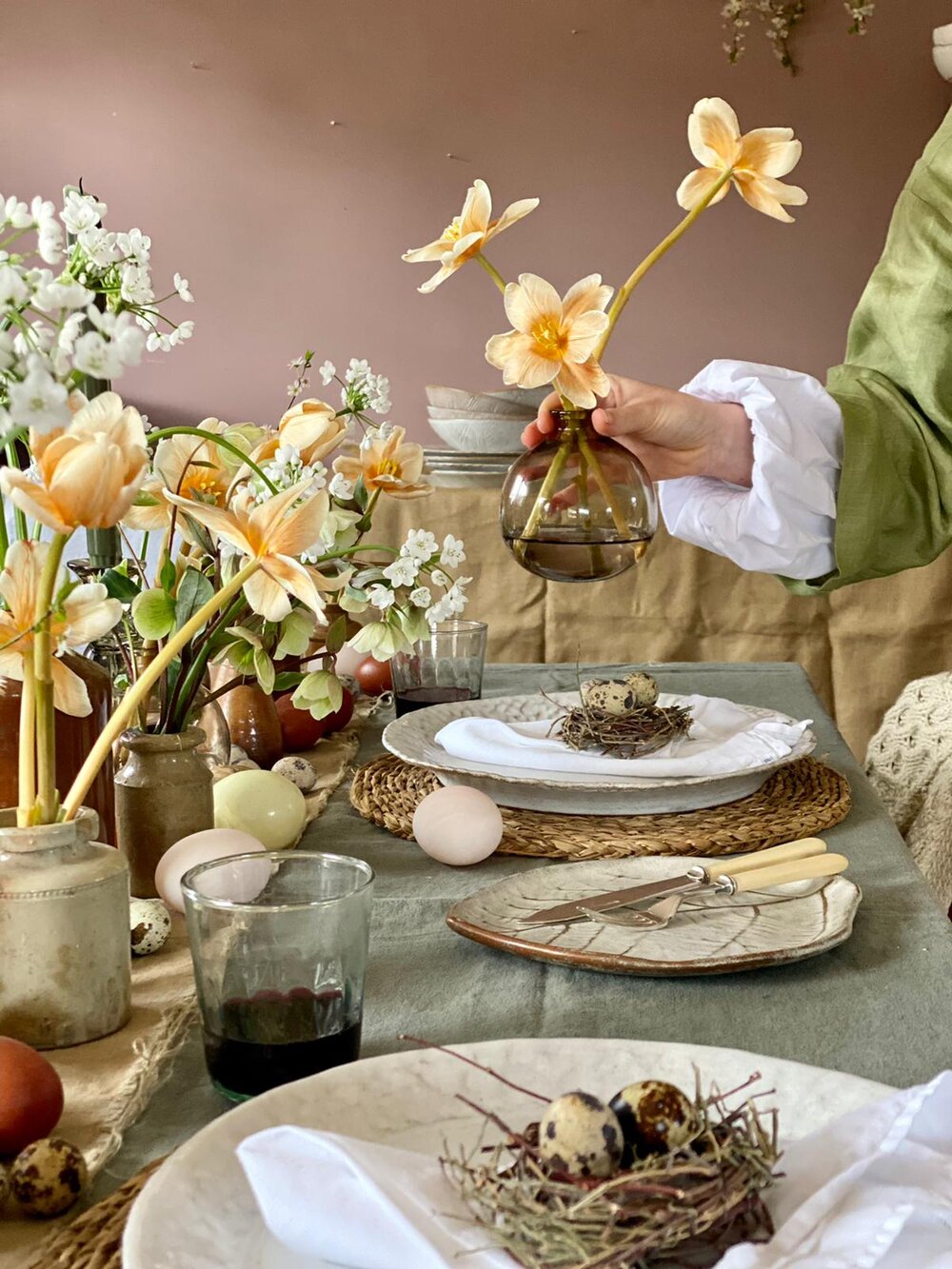 I hope you've enjoyed this round-up of 13 Fabulous Vegan Easter Recipes! If you whip up any of these recipes please let me know how they worked out for you! Leave a comment and rate the recipes!!
Don't forget to Pin it!